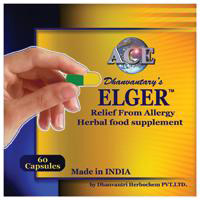 Dhanvantary's Elger
60 Capsules
MRP: £75.00
Quantity:- 3 Bottles(min)
UK Customers Only
For Relief from Allergy
Instant relief in hay fever. Keep's you away from runny nose irritating cough and headache.
Elger also helps to build your immune system to keep you away from various infections, allergies and virul infections like Swine flu. As we say prevention is better than cure, Take 2 capsules of Elger everyday to help yourself stay away from Swine Flu.
Our manufacturing unit, known as Dhanvantary are the group of known herbal doctors and researchers who are well trained and are in this trade for centuries as it runs in the family for Generations. The motive at Ace products is to create the best herbal products and reach them world wide to help masses to maintain healthy life style without side effects.